Description
Details
Number of Slices: 2 Power Consumption: 800 W H x W: 18 x 14 cm Type : Pop Up Toaster Functions : Toasting, Variable Browning Color: White
Product description
Product Description
Say goodbye to breakfast worries with the HD4815/01 Philip toaster maker. It consumes 800watts of power and will prove very handy to prepare a nourishing breakfast of breads and buns. It has an electronic browning control and includes a hinged crumb tray. 2 breads can be toasted simultaneously and they pop up easily. The Philips Pop-up Toaster comes with 2 years warranty, from the date of purchase of the product.
From the Manufacturer
Say goodbye to breakfast worries with Philips Pop-Up Toaster. Specially designed by Philips, this compact appliance fits easily on any countertop with minimal space usage. The appliance also has extremely convenient hand grips.
Available in the classic white, Philips 2 slice Pop-Up Toaster can toast two slices of bread at a time. This appliance comes with a variable browning option. This helps you make the perfect toast for all your family members. The electronic timer built in the appliance helps to manage your time more effectively, specially in the bust hours of the morning. The appliance also has a very useful cancel function.
The hinged crumb tray makes this device easy to clean and maintain. The outer body of the device is shock resistant to prevent accidents in the kitchen. This allows even young children to handle the appliance easily and safely. The product comes with a 2 year warranty.
Power usage of the Philips HD4815 watt pop-up toaster is 800 watts, and the required operating voltage is 220-240V.
Product Features
Compact design to suit the urban lifestyle.
Shock resistant exterior.
2 year warranty on product.
Power of 800 watts and operating voltage of 220-240V.
Adjustable browning control
Ajust the heat level to your preference and get your toast the way you want it.
Compact toaster to save space on your counter top
The Philips toaster saves space on your countertop thanks to its compact design.\
Thanks to this Philips Pop Up Toaster, you will never have to skip breakfast even when you are on a tight schedule.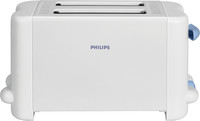 Space Saver Design
Enjoy crisp and perfectly browned bread when you toast bread using this appliance. It has two slots so you can toast up to two slices at a time. This compact-sized toaster helps save counter space, making it the ideal addition to any kitchen - big or small.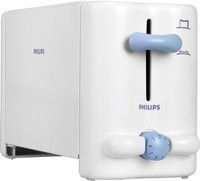 Control
Some people like their bread to be lightly toasted, some prefer it to be toasted till golden, and some like it fully toasted. Get the right kind of browning on your toast by adjusting the heat level using the browning control knob.
Specifications
General
| | |
| --- | --- |
| Brand | |
| Model | |
| Type | |
| Functions | Toasting, Variable Browning |
| Color | |
General Features
| | |
| --- | --- |
| No of Slices | |
| High lift for small breads | |
Functions
| | |
| --- | --- |
| Toasting | |
| Variable Browning | |
Dimensions
| | |
| --- | --- |
| Height | |
| Width | |
| Depth | |
Warranty
| | |
| --- | --- |
| Service Type | Customer needs to carry the product to the nearby Authorized Service Center to get the product repaired or inspected. |
| Warranty Type | Within warranty period, Philips Authorized Service Centers will repair or replace any defective part, if required, to rectify the problem. |
| Warranty Summary | 2 Years Warranty by Philips Pop-up Toaster |
| Covered In Warranty | |
| Domestic Term | |
| Not Covered In Warranty | Warranty shall not cover any damage resulting from adaptations or adjustments which may be made to the product. Warranty does not extend to cabinets, knobs, labels, or any accessories. Warranty does not cover the risk to the product caused by accident, lightening, water, fire, other acts of God, improper ventilation, dropping or excessive shock or any external cause beyond Philips's control. |
Additional Information
Additional Information